Fujitsu's LIFEBOOK4Life is here again with "Ultra Test Flight" and new challenges for Insiders. This year it's about Ultrabooks and the Autumn will be full of interesting tasks to fulfill. In the end if successful the Insiders can keep their Ultrabooks, be it U772 or U572. Last year I took part in Fujitsu's "LIFEBOOK4Life: Accept no boundaries" campaign and tested LIFEBOOK S761 laptop. It was very interesting couple of months. This year is not going to be any different and looks like it will be even more exciting.
LIFEBOOK4Life: Ultra Test Flight challenges 40 independent IT- and lifestyle-bloggers (called Insiders) from all over the world to a quest through virtual airport passing all stations from check-in to the gate. Each station contains a solo and a group task in which the Insiders unveil the features of Fujitsu's Ultrabooks (U772 and U572) in aspects of mobility, reliability, elegance, connectivity and security. In the end if an Insider solves at least seven test tasks he or she can keep the Ultrabook. There is also extra bonuses with a change to go to Fujitsu Forum 2012 in Munich, which I went last year, and the Top 10. will get a flight voucher.
There are total of 10 test tasks and couple of extra tasks for the enthusiasts. Last year there was overall of 15 tasks but unfortunately the project site is not available anymore. It was and will be quite brain teasing and interesting to solve those with travel themed and somewhat tongue-in-cheek like articles. For example "mobility" contains a task to pack a lightweight luggage with the five items and "security" is about discussing and showing which security feature is your favorite. "Elegance" is for thin-telligence and design & style as "connectivity" is for 3G/UMTS and 4G/LTE. And the fifth theme "reliability" is about features which combine German engineering with Japanese quality.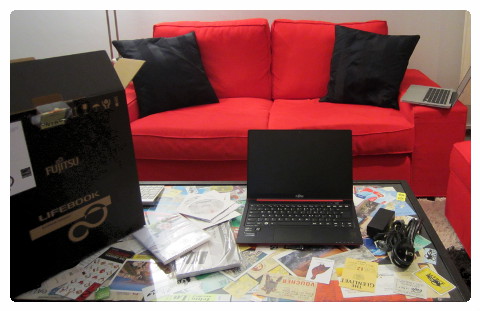 LIFEBOOK4Life: Ultra Test Flight started last Friday which was convenient as the same day I got my package from the local post office. As usual, everything starts with unboxing and as a special Silver Insider (last year went the extra mile and expressed extraordinary commitment) my package contained a red LIFEBOOK U772. In short: Intel Core i5-3427U (2.8 GHz, 3 MB), 4 GB RAM, 128GB SSD, Intel HD Graphics 4000, 14″ 1366 x 768 LED backlight and Anti-glare screen, 802.11 a/b/g/n, Bluetooth 4, 3G/UMTS, 4G/LTE, (WxDxH): 327 x 225 x 15.6 mm and 1.4 kg. I will later write a short review about it.
The project has also something for everyone. You who can take part in a raffle and win a flight. To improve your chances of winning you can earn badges which gives you an extra raffle ticket. Just comment on 10 different blog articles, "Like" 10 different blog articles, share 3 articles with your friends on Facebook and log in on 6 different days.
You can follow my quest at the LIFEBOOK4Life site from my profile or follow me in Twitter.