In late November it's again time for business- and IT decision-makers, experts, project managers, IT architects, consultants and bloggers to travel to Munich, Germany to visit Fujitsu's largest IT-event in Europe: Fujitsu Forum 2014. This year the event is held 19th and 20th November at the ICM in Munich and there will probably be over 10,000 attendees around the world getting insights and looking for strategic and operative ways to modernize and develop their own IT or the IT landscapes of their customers. Last year I was one of the bloggers invited by Fujitsu to visit Fujitsu Forum 2013 and it was an insightful experience.
The motto of the Fujitsu Forum 2014 is "Human Centric Innovation" which expresses focus on a safe and prosperous future through innovations in information and communication technology. The event description tells us that these ICT innovations strongly support enterprises, public organizations and individuals in creating wealth and value. In overall Fujitsu Forum is a good place to find innovations that reduce costs and risks as well as increase agility and improve efficiency. Big and important words but what does it mean in practice? The event overview with summary about keynotes and breakout sessions gives you some idea about the different topics covered so let's take a short look at the events I would select to attend.
There are a lot of simultaneous events so to make it easier to organize the events of your choice there's an excellent schedule builder. The presentations in in the list of Keynotes and Breakout sessions are divided in three conference tracks: "Human Empowerment", "Connected Infrastructure", "Creative Intelligence". The topics cover themes like how to design the future, workplace of 2020, tablet meets notebook, digital transformation, wearable technologies, Internet of Things and connected vehicles. Overall I selected 14 sessions to my agenda but pruned it to three keynotes and five breakout sessions as you don't have time for every interesting topic.
Keynote: Human Centric Innovation & how to design the future by Tango Matsumoto and Brian Johnson (Intel), 19 November, 11:00, Auditorium
"How value can be generated for your business and for our society by the new Human Centric Innovation approach. Matsumoto will explain how Fujitsu contributes to business growth and the resolution of social challenges which will set the scene for all the subsequent presentations."

"What kind of future do you want to live in? What are you excited about and what concerns you? What is your request of the future? Brian Johnson answers these questions and more with The Tomorrow Project, a fascinating initiative to investigate not only the future of computing but also the broader implications on our lives and planet."
Workplace Anywhere – Increasing enterprise productivity by David Rosewell, Simon Gray and Thomas Zell, 19 November, 13:00, Room 13b
"Organizations are mobilizing the enterprise to deliver both increased productivity and cost savings. They seek to empower and enable their people to get the job done and look to embrace more flexible working practices to maximize productivity. We will guide you through the options and a vision for the 2020 workplace to identify your ideal workplace strategy."
Keynote: Fujitsu and its customers by Jürgen Walter, 19 November, 14:00, Auditorium
"Human Centric Innovation is for a world where technology complements all of our lives. A place where information continually delivers knowledge and innovation thrives. How does Fujitsu implement this vision and how do customers benefit from it? Jürgen Walter will address these questions, depicting some remarkable customer examples."
Fujitsu Laboratories Group's R&D vision and key initiatives by Hideyuki Saso, 19 November, 15:00, Room 13b
"Fujitsu Laboratories' R&D vision, highlighting key activities, under a mission to conduct R&D from a mid to long-term perspective, to generate new business models and discover new markets to drive Fujitsu's business. We backcast future markets, products and services, engaging in trend-conscious R&D of: platform/applied/verification technologies, ubiquitous computing domain human interfaces and devices, data-leveraging domain knowledge platforms and cybersecurity, ICT platform domain computing and networking, software-supporting product development and manufacturing, and electronic devices. By interlinking such technologies, we aim to drive global business."
Keynote: Digital Transformation & Fujitsu in Society by Joseph Reger and Duncan Tait, 20 November, 10:00, Auditorium
"As the Internet and other information and communication technologies penetrate all areas and aspects of life, business and infrastructure, a hyper-connected world is created. Digital and analog businesses, processes and, indeed, worlds converge on the basis of ICT technologies. Innovation accelerates, new value propositions and new businesses are created, existing businesses fundamentally transformed. What this development means, what technologies it requires and will create and how to not just cope with it but how to make good use of it, is the subject of the presentation."

"Fujitsu uses the power of technology to contribute to the development of sustainable societies around the world. Working with both businesses and governments, in fields as diverse as energy, transportation, food, health, the environment, and education, Fujitsu's ICT can drive social innovation and generate solutions. Duncan will present highlights from this area of Fujitsu's activities and show that the company's vision of a Human Centric Intelligent Society is already becoming a reality."
The human-centric workplace: Joy and efficiency got married by Christian Bock, Markus Seifart and Jeffrey Shomper, 20 November, 12:00, Room 13b,
"A successful workplace IT strategy is all about people. Generation Y and BYOD drive a new understanding of workplace IT, one that puts the user at the center and embraces individuality. Progressive companies realize that this new thinking boosts both productivity and employee satisfaction. Fujitsu shares best practices that empower users to achieve their full potential."
Wearable technologies for human empowerment by Naoyuki Sawazaki, 20 November, 13:00, Room 12
"Although various types of wearable devices such as eyeglasses, watches and other gadgets for health and fitness are gaining more attention in consumer markets, the true potential of wearable technologies lies in enterprise or business use. Because they enable users to get ICT support in a hands-free manner, they offer a clear advantage especially for workers in factory or building maintenance and other onsite operations to make their work more efficient, with fewer errors and oversights, even when they are not experts. In this session, current trends of wearable technologies are briefly reviewed, and then, research activities in Fujitsu Laboratories including the newly developed glove-style wearable device are introduced."
Exploiting IoT & Hyperconnectivity – A Life & Death Example by Joseph Reger and Antonio Jara, 20 November, 15:00, Room 13b
"The Internet of Things promises to create huge new opportunities in business and society. In this session we demonstrate the use of Fujitsu RunMyProcess to connect wearables, mobiles, cloud software and physical sensors in order to show how time saved through hyperconnectivity could literally mean the difference between life and death for a critically injured cyclist."
And of course there's a comprehensive exhibition of products and solutions which reveals e.g. how data center and client landscapes can be improved through innovation initiatives. Though this year I'm not sure what to expect and look forward to regarding Fujitsu's Ultrabooks and tablets. Anyways the exhibition offered by Fujitsu and its partners has always been interesting. Last year we got i.a. hands-on with U904 and T904 Ultrabooks and tested the 360 degree video conferences and collaboration setup.
We all love technical topics and talks but there's time also for refreshments and entertainment. On Wednesday evening there's an opportunity to enjoy Oktoberfest themed evening event. It's a nice entertainment and networking opportunity with drinks and special Bavarian dishes. Last year there was crispy roast chicken (Hendl), spiced strips of pork belly (Hüttenspeck), bread and dripping (Schmalzbrot), chive bread, savory cheese spread with pretzels (Obatzda und Brezn). Hmmm, and now I'm again hungry :)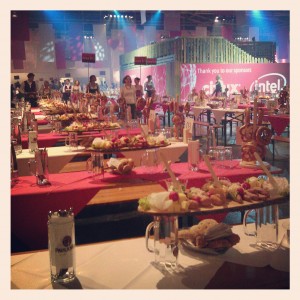 Fujitsu Forum with keynotes, breakout sessions and exhibition looks interesting and also this year I'm one of the Fujitsu Digital Influencer program's bloggers invited to visit Fujitsu Forum 2014. It will be exciting to see the latest technology trends and other bloggers and Master your Business campaign team. In other news I'm again taking part in Fujitsu's Master Your Business campaign which starts on November 6th. The campaign will be fun as I just got the device I'm testing and it's pretty sweet.
Until then, read about my insights from last year's Fujitsu Forum 2013 where I was invited by Fujitsu and follow me on Twitter (@walokra) for technology insights and maybe we will see on 18th and 20th November at the ICM in Munich.